There's Monitoring…Then There's Nautic Alert
What do you do when you're getting on a plane and all of a sudden you receive a high water alert or anchor alarm alert from your boat? Without meaningful data, you can't make informed decisions, and are always in reactive mode.
Nautic Alert is the new standard for security, monitoring, and tracking with exceptional reliability and simplicity based on intelligent machine learning and SMART sensors. Nautic Alert keeps you in control, on board or away, and enables proactive behavior. Nautic Alert gives you the full picture of what's happening, in real-time, with meaningful data, and can even react to events automatically.
Nautic Alert is custom marine-grade security, with unrivaled features, for thousands less than what you expect from other marine security solutions. Nautic Alert is pre-configured for quick installation, and extremely easy to use.
Meet The Nautic Alert X2 Platform Components
All Wireless, Compact MFD
Simple to Install and Use

Latest Video Technology
4K UHD NVRs and cameras, long range marine Wifi that can fall back to 4G/3G cellular, and all works out-of-the-box without any port forwarding when connected to marinas.
Intelligent Human Detection
Protect outboard engines, chartplotters and electronics, and more with military-grade FLIR protection, all at a price that's hard to believe.
Pre-configured Wireless XPulse Plus Sensors and Zones
Every System Customized Before It Ships, So It Works When You Get It
With XPulse Plus and wireless sensors, all sensors and zones are pre-configured and zone descriptions set so installation time is minimized. We'll work with each customer to agree on a scheme that makes sense for your boat, so you know exactly what you're getting before you order.
Wireless Sensor Types
Outdoor Microwave Motion
Indoor Motion
Hatch/Locker/Door Contact
Smoke
Carbon Monoxide
Man-Overboard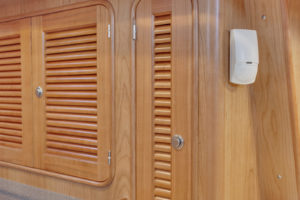 US-Based Remote Configuration Support
Remote Visibility and Support You Can Count On
Nautic Alert's US-based team is notified for all system critical events, and we can even remotely administer and make changes to your system if you'd like us to. Pump cycling more than it should be? No problem, we're happy to remotely diagnose and make configuration changes that make the most sense for your setup.
Professionally Installed, Designed for Simplicity
One-Stop Quote to Finish
Want a simple quote and process that includes everything from start to finish? Contact Nautic Alert's quote specialist, Nick Velado, at support@nauticalert.com.
Nautic Alert has trained NMEA installers across the US, who can install Nautic Alert systems for less than you might expect, with installation costs often completely absorbed into the system price. Nautic Alert features an all-wireless system with pre-configured wireless security and safety sensors and zones, so installation time is considerably reduced.
Nautic Alert's US-based staff can remotely administer Nautic Alert system settings as well, so you always have support for your system without ever needing to know anything about the system details, or needing to be physically present.
Showcased Install, Electronic Marine, LLC, Annapolis, MD
New-Want your dealership showcased? Send us some high-res images of your Nautic Alert installation experience
Nautic Alert features standard wireless pre-configured sensors and zones, and a one-touch setup of our Nevata bilge controller to simplify the installation process. In addition, Nautic Alert features leading and patented innovative custom technology designed in-house, rather than consumer grade adopted technology.
Nautic Alert costs thousands less than other marine security companies, with unrivaled technology, and is typically installed in less than a day, with installation costs often absorbed into the price. See how customers are using Nautic Alert, and give us a call for a custom consultation to see how easily our system can enhance your boating experience.
Nautic Alert Cloud Watch Anti-Theft
Thieves are smart, but Nautic Alert is smarter
Criminals often use RF jamming devices to prevent system communications, especially when they suspect a concealed tracker, but Nautic Alert's Cloud Watch has them beat. With a Nautic Alert XCaliber Anti-Theft subscription, you get Nautic Alert Cloud Watch, which ensures that any attempt to compromise system communications is detected within minutes by Nautic Alert's cloud, from anywhere in the world.
In addition, Nautic Alert creates a dedicated tamper-proof compartment, separate from the MFD, making it impossible to relocate a Nautic Alert system without it being detected.
Nautic Alert is the first marine security system to feature Radar, Microwave, and FLIR-based thermal perimeter protection for the Ultimate Intrusion Detection Solution on the Market. Unlike others systems that use the same technology available in homes, we don't offer residential solutions for demanding marine environments.
Our security uses the most reliable marine-grade technology available. 3D Microwave motion makes it possible to detect intruders before they board or on the deck, while ignoring dock movement. FLIR technology can intelligently detect humans within very precise boundaries, for the most advanced protection of high-value outboards and electronics.
See how our technology leads the marine security industry.
NOAA VMS That Simplifies and Insurance Benefits That Pay
Nautic Alert's advanced security and safety features can help your fishing company save BIG on commercial and vessel insurance. Contact us for a direct referral and quote.
Nautic Alert features the first VMS solution that has integrated messaging and forms, with no setup required. Nautic Alert simplifies fishing with a solution that works out-of-the-box.
Nautic Alert is currently VMS type-approved for Alaska, with Southeast, West Coast, and Pacific approvals coming by end of 2018. Contact us for limited pre-order specials and to learn about our fishing referral program.
Bilge Management You Have To See To Believe
Early Detection of pump, plumbing, or electrical issues from above the waterline.
Nautic Alert makes replacing or complimenting your existing bilge hardware a breeze, and is an advanced learning system that can tell you the second your boat develops a leak, auto-switch pumps for redundancy, control your pumps intelligently, and much more. Nevata can also be used for bilge-level monitoring and controlling untreated bilge discharge for commercial compliance regulatory use.
Gone are the days of waiting for a high-water alarm to notify that your yacht is sinking. With Nevata, you get true early detection with a SMART controller than can auto-switch pumps and do something while informing you of bilge-level measurement details that matter, accurate to within 1/10 of an inch.
Happen to get high water even with Nevata? Don't worry, Nautic Alert can text a dedicated third party, such as a harbor master, so you can get an immediate pump-out when it's needed.
SMART Anchor Alarm and Geofencing
Nautic Alert's SMART anchor alarm uses next-gen technology to automatically adjust and provide the most precise and accurate anchor alarm in the industry, with virtually zero false positives, enabling you to get a good night's sleep.
SMART Geofencing enables Insight to be fully aware of geofence boundary transitions so it can notify in real time, and save on data costs by eliminating periodic vessel track data. SMART Geofencing is part of Nautic Alert's XCaliber Anti-Theft component, requires an XCaliber subscription, and is ideal for fleets or third parties wanting to safeguard their assets.
Multi-Bank DC Monitoring and Trending
Multi-Bank DC monitoring and trending lets you visualize and detect battery issues. With XPulse and XPulse Plus, scaling the number of batteries monitored is a breeze, and you can even mix and match voltages and battery chemistries.
SMART Temperature Sensors
Protect your bait and catch with temperature monitoring for freezers, fridges, and ambient temperature throughout multiple rooms and compartments.
Having an unexpected freezer failure can be catastrophic, not just because of the food you'll loose, but because of the irreversible smell and difficulty replacing the unit. Nautic Alert's pre-configured temperature sensors are the perfect fit for the job.
Search and Rescue Reinvented
Nautic Alert features global SAR monitoring with two-way messaging to GEOS, authorized contacts, and any cellular number worldwide. This enables proactive behavior before and during an emergency, making Nautic Alert your first resort to provide crucial details in any language, anywhere, in real-time with reliable two-way communications. Additionally, multiple MOBs can be used to protect and notify crew, or optionally, GEOS, in the event of an emergency.
Nautic Alert's tracker features a shared VMS core relied on by the US Government and NOAA commercial fisheries, available in select regions.
The vessel tracker features a simple-to-use map-driven interface that automatically calculates your routes, makes it easy to display previous routes, and get instant statistics on individual tracks. With On-Demand access, you can also always get current location data from your Insight anywhere, anytime.
Unified Bundled Billing, From One Source
Nautic Alert, Powered By Nearshore Networks
Nautic Alert customers can combine all of their existing broadband and sat phone plans into one unified bill provided by Nearshore Networks. Nearshore Networks has the ability to bundle all services and lower monthly recurring costs for existing or new services. Contact us to see how we can help you save.
With Nearshore, we can provide satellite, 4G, or a hybrid auto-switching solution perfect for the size and budget that suits your needs. With the advancement of this technology, you can even turn your yacht into a mobile hot spot that provides broadband to your nearby house, apartment, or condo.
Insurance Discounts and Incentives
Nautic Alert has dedicated top-tier insurance partners we work with that offer special discounts and incentives for our customers, which include boat insurance, yacht insurance, and commercial insurance. Contact us for a direct referral to an agent who can help you save on recurring insurance premium costs when you use our system.
Nautic Alert X2 ™ Overview
The most advanced boat monitoring and security system ever created. X2 packs the first SMART bilge controller designed to replace or enhance a float, the first microwave-based intrusion technology designed to detect an intruder before they board, and work within the constraints of harsh marine environments, and much more.
NAUTIC ALERT MTC-E
Intelligent Decision-Making
for Early Event Detection.
When it comes to protecting your crew, passengers, and your boat or yacht, Nautic Alert is like having another crew member aboard monitoring around the clock. Like a crew member, Nautic Alert can control and make decisions using intelligent state of the art wireless and integrated sensors capable of learning and communicating with the crew, aboard or ashore using graphical and audio indicators, text messages, email, or Nautic Alert's new My Insights Web Portal so you always remain connected to your boat or yacht.
Nautic Alert monitors and detects your yacht's location, dragging anchor, unexpected release from mooring, DC battery voltage, and a developing bilge system problem. It can even control your bilge pumps and auto swap pumps because it learns the operating characteristics of your pumps and measures water level as accurate as 1/10th of inch. It does this all in real time, right onboard your boat or yacht with an elegant touchscreen interface that is simple to use and made for the marine environment.
Nautic Alert Insight X2 ™
IoT Edge Computing for Early Event Detection
The frontier of computing enabling analytics, detection, communication, and knowledge generation right on board. Cellular or Satellite Capability.
Hurricane Harvey
Nautic Alert Excelled
in the Toughest Conditions.
Installing Nautic Alert was a small price to pay for the comfort of knowing that the boat was doing fine in the storm.
The simple answer: Nautic Alert tells the complete story with early event detection and trending using precise measured data for automated decision-making and for an owner to make informed decisions.
When it comes to your boat or yacht, why would you make a decision without real time descriptive data?
As an officer of the company, I was inspired through a personal boating experience years ago, while preparing to board a flight for a business meeting when all of the sudden, I received a high water level alarm message. It was at that moment, I asked myself: "is my boat sinking"? How urgent is it? Do I have time to respond later and avoid missing my flight, or should I miss my flight and business meeting to make an immediate dash to my boat?
With Nautic Alert, you will have the data on board and on your smartphone to make informed decisions in a timely manner before an event becomes a major problem – and that is the kind of protection you can trust for a peace of mind.
2-Way Cellular or Satellite
Communication
Data Directly from Your Yacht When You Want It.

---
Nautic Alert Capabilities
My Insights for Remote Boat and Yacht Monitoring.
When travel requires you to be away from your yacht, Nautic Alert remains on duty and ready to respond to your requests in Real Time and On Demand.
"Nautic Alert regularly assures me that all is well, and it's ripe for expansion. I think I'm in love…"
Ben Ellison, Panbo.com February 9, 2017
Highly Respected Editor and Customer
Latest News
04/19/18, Newswire: Nautic Alert ® Chooses ComMar Sales LLC as Their Exclusive Eastern US Manufacturer Representative
01/31/18, Newswire: Nautic Alert ® X2 Revolutionizes Search and Rescue and Boater Safety Technology
01/23/18, Newswire: Nautic Alert ® Provides Alternative Solution for Bilge Water Discharge Control
01/16/18, Newswire: Nautic Alert to Safeguard Commercial Fisherman And Assets With Their VMS Type-Approved Insight
09/18/17, Newswire: Nautic Alert Gives Boat Owner Confidence During Hurricane Harvey
09/14/17, Gemeco: Nautic Alert Appoints Gemeco as U.S. Distributor.
07/25/17, Newswire: Nautic Alert Shows Not All Lifesaving Devices Are Created Equal With Their New X2 Early Detection System.
07/17/17, PR Newswire: Nautic Alert Targets Marine Charter and Recreational Safety With Their New X2 Technology
07/17/17, NASDAQ: Nautic Alert Showcases the Next Gen of Boat Monitoring, Safety, and Security with Their New Insight X2
02/15/17, Power & MotorYacht: Nautic Alert Nevata, The Intelligent Bilge Pump Controller
02/09/17, Panbo.com: Nautic Alert, excellence in monitoring and control
01/20/17, Sail Magazine: Nautic Alert Wins SAIL 2017 Pittman Innovation Award
01/14/17, Trade Only Today: Sail Magazine Hands Out Annual Innovation Awards
05/11/16, MyBoatsGear.com: Nautic Alert Decision Platform
02/24/16, Business Wire: Nautic Alert Decision Platform Reduces Risk of Yacht Sinking at an Anchorage, Mooring, or Dock
---